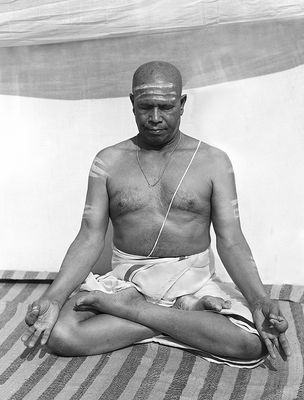 First and foremost, Mysore is the name of the city in India, where Sri. K. Pattabhi Jois, one of the founders of modern Ashtanga Yoga, lived and worked. When, at the beginning of the 1970s, the first Americans came to him to learn his form of yoga, they met a man who had switched from studying Sanskrit to teaching asana.
"I like the peace in the room. Having a job that requires a lot of communication and two children, I spend most of my day answering questions. I am very grateful for the silence and appreciate not being verbally led through the class by a teacher. The only thing I hear while practicing is my breath and the breath of the other practitioners. It's really wonderful! And the occasional whisper between teacher and student does not bother me at all."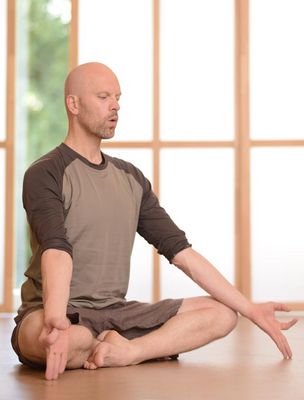 Let's say for example that in your shala, there is a Mysore-style class from 6:00 a.m. to 8:30 a.m. What does that mean? The rule of thumb is that you can come up to 15 minutes early, in this case 5:45 a.m., get yourself ready, roll out the mat and start practicing. In contrast with the Led Class format, you are not expected to stay the entire time and practice. Depending on what your day looks like and what appointments have, you could arrive at 6:30 a.m. or even 6:58 a.m. and then leave at any time based on what works for you. The only requirement is that you come early enough to be able to practice and still have time for a final relaxation.
"I practice Mysore-style because I want to be more in touch with my body and I want to establish ongoing contact in that way. I can practice at my own pace and do not have to follow the lead of a teacher. Additionally, I see how I can let go of old beliefs that don't serve me and perhaps I can learn to curb tendencies of reacting to input by becoming suddenly neurotic. In practicing, I would like to liberate myself of the burdens of the past and lead a more chill and accepting of the moment type of existence. I want to balance out mental deficits and get in touch with my innate sense of trust. Moreover, I would like to improve my flexibility and to practice the Primary Series without so many modifications. "
Teaching without words
Silence characterizes the Mysore-style classroom, which for many takes some getting used to. The only thing that you hear during the practice is the diverse sounds of breath as practitioners utilize the well-known Ujjayi breathing technique. The quiet is occasionally broken with the sound of a teacher whispering a few instructions. This setting enables the highest level of concentration and simultaneously a deep sense of peace.
"After taking seven Led Classes, where I learned the basic positions and the final sequence of Ashtanga Yoga, I attended a Mysore event for the first time. I was curious about this unfamiliar class format. It was a real eye-opener, as I became all too aware of the fact that I was still far from clear in recalling the order of the poses and the transitions, let alone the breath-movement connection. After a few months, it was clear that Mysore-style was the best choice for me!"
For beginners to the practice who have not attended a beginners class with the fundamentals of the sequence, the first few Mysore-style classes can be rather short, sometimes lasting only 30 to 45 minutes.
"The uncertainty and unrefined awareness of a beginner's practice is tested in the Mysore-style class with it's consistency. You are working through the same set of postures each time, where you can constantly ask and answer new questions, receive individual tips and suggestions and just the right dose of adjustments. You are constantly challenged and motivated in this teaching format."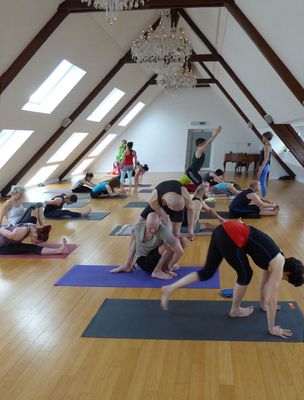 The "King's Discipline": Teaching Mysore Style
As a teacher I try to take a look at the student's practice as a whole. Gradually, I learn more about how the person is practicing and I see what elements the student is consciously working with, as well as where the student may be skipping over things or where certain things that the student may not be aware of can be used. These can be very subtle things such as breathing, alignment or the application of bandha.
"My first Mysore-style classes were rather short, because I had just begun learning the poses and so my repertoire was limited to a few sequences. Over time it became much easier to connect movement with breath and the transitions between poses became smoother. Gradually, I received one or two new asana until I established a good foundation with the standing postures of the Primary Series. Simultaneously, I developed my own personal practice that I could practice on my own, whenever and wherever I like, without needing the support of a teacher. "
Nonverbal adjustments are my preferred method for helping my students, and they are really quite practical to use. You can use touch to share ideas or give a sense of orientation in a very clear way. Words can also help, but when you use them keep it short and sweet and give them in a six-inch voice directly to the student so you don't disrupt the concentration of others. In a Mysore-style class there is no space or time for long explanations - here is a time to let the students flow, stay warm through movement and maintain a mindful connection with movement and breath. After class, there is usually time to have a small discussion if something needs to be explained further.
"I like my rhythm. In contrast to a led class where I have to follow the rhythm of the group which is often too slow or too fast for me, I can truly focus on my breath. The breath is dependent on lots of things and it is simply beautiful in a Mysore class to be able to flow to your breath count and follow your own beat."
Finding the right Shala, Practicing in Mysore-style and Personal Practice
It makes a lot of sense to find a teacher to help support your learning in a Mysore-style practice. The teacher should be one that you regularly practice with, who you feel confidence in and who has the level of experience and know-how to support your path. How do I recognize a good teacher? Having the right chemistry is a good start, but there are some other signs that you have found the right teacher. Namely, that your teacher has a lineage, meaning that they have learned from their teacher in the same tradition as they teach you, and, that their teaching is informed by their own personal practice. Over time, you can build a stable, mutually respectful and trustful relationship with your teacher, where you as a student feel a sense of being accompanied by your teacher along with all of your concerns, worries or fears.
"I like practicing in a group and I really love the energy that comes with it. To my mind, the energy of a Mysore group is much more intense than a normal Led-Class. Every person puts their full energy, concentration and breath forth and is totally embodied as they practice. This makes the practice even more intense and also very personal. I feel like the room is a safe haven for me to experience my practice to the fullest, however that may be for me that day. It's like being part of an extended family where everyone is there to help one another. I feel that this support network allows me to dive even deeper into my personal practice as when I practice alone at home. In contrast to a Led-Class, I feel that Mysore-style classes create a space where I can really feel into my practice."
So in a nutshell: Whenever you are facing challenges in your practice, try to look into the source of the issue and go to your teacher for advice. Your teacher will be able to offer some advice and together you can work on a path to address the problem. This doesn't mean to just do what your teacher says without question. It is your body and if you aren't sure something is working you should speak up. This means to give your teachers suggestion a try and if you don't feel it's right, let your teacher know and see if you can find a more suitable solution.
"I recall that at the beginning I was totally against such a form of practice. Everything within me seemed to want to rebel against it. Today I can tell you why: I wanted to be in a led class because I didn't want to take on the responsibility for my practice. I could zone out follow the instructions and do the exercises. And when the lesson sucked, it was the teacher's fault and not my own."
Image 22508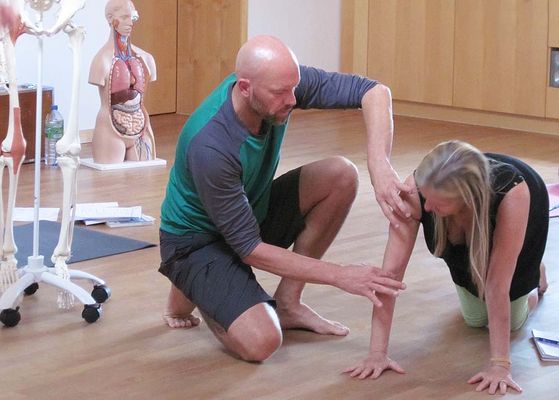 Andreas has exclusively taught Mysore-style classes six days a week since 2016. Led-Classes are only offered once a month. The reason for this is to help those who have recently learned the Primary Series to find a rhythm through the transitions and to recognize the different stops along the way to each pose. At the same time, the students are able to feel what it is like to practice the whole series together and synchronized as a group. The students' reaction? At first many people were skeptical and weren't really sure that Mysore-style was for them because it required so much personal responsibility. Over time the classes grew and grew, thanks to those motivated and courageous pioneers from the start! And since then, things have flourished...