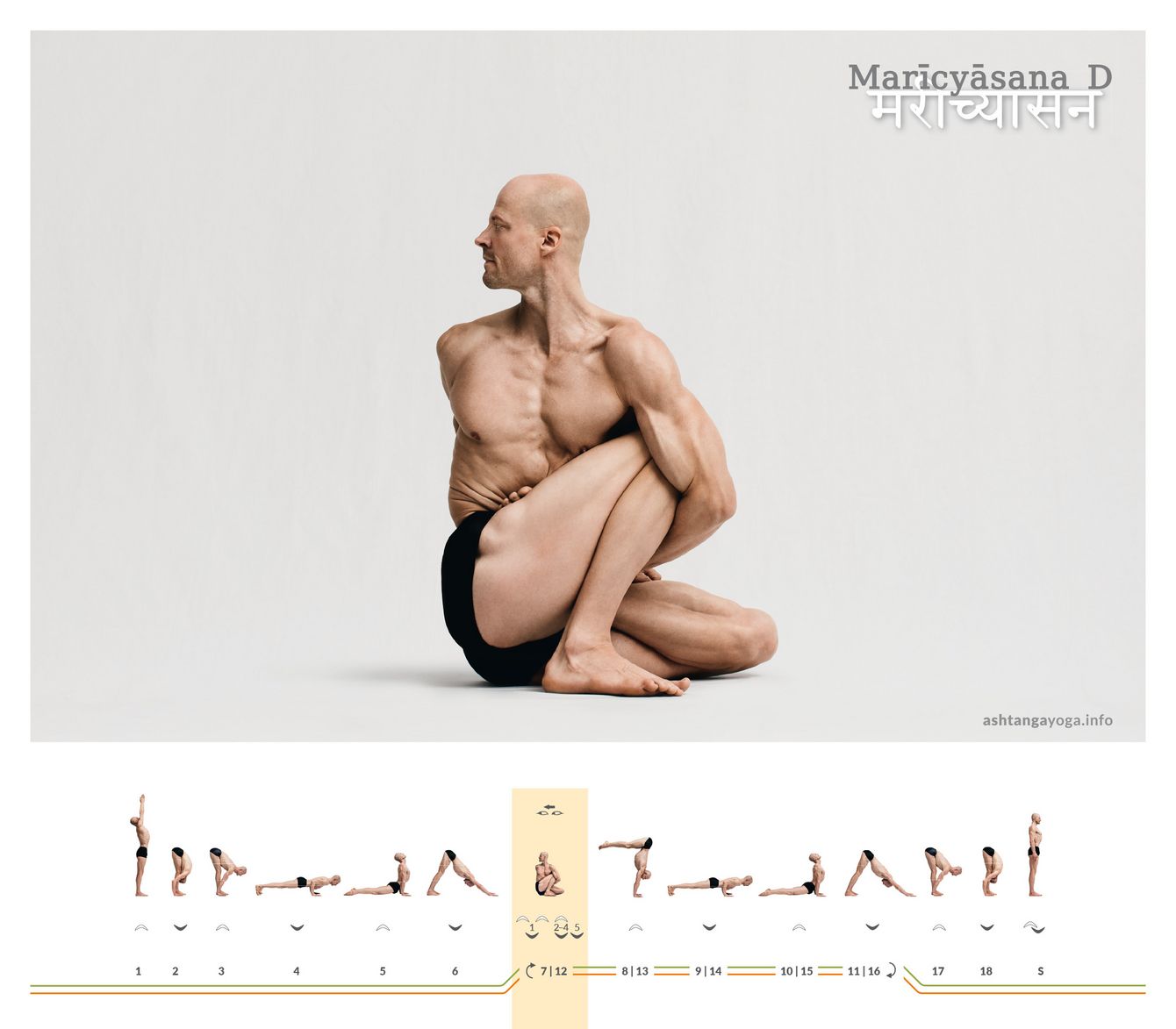 marīci

substantive masculine

Ray of light, name of a Mahārṣi who was born from Brahmās spirit. He is one of the seven sages and father of Kaśyapa. Marīci participated in the celebration of Arjuna's birth
āsana

substantive neuter

seat, posture
Directly from the Downward Facing Dog of the previous sequence.
Vinyāsa 7: Inhale, Exhale, Inhale:
Push off the Downward Facing Dog on an inhale and glide into a balance on your hands. Use the exhale to slowly lower yourself between your arms. Place your left foot into Lotus position and then bring your right foot as close to your hip as possible. Now, on an inhale, rotate over your right side, reach around your right leg with your left arm and grasp your right wrist. Keep your gaze pointed to the right until the fifth exhale.
Try this: Traditionally, this very complex posture is entered with a single movement. While the inhale and exhale are already largely spent on the jump and the lowering, only the end of the exhale and a single inhale remain for folding the legs and binding with the arms. Especially at the beginning, take the time for some extra breaths. Follow the advice from Marīcyāsana B and fold the Lotus as tightly as possible and tilt your pelvis to the left so that the left thigh remains in contact with the ground. Then, using the technique already presented in Marīcyāsana C, you can push your right thigh to the left with your right hand. This can allow you to reach forward with your left flank over the right thigh and bind your right wrist behind your back.
Vinyāsa 8 to 11:
Follow the familiar movement pattern back into Downward Facing Dog.
Vinyāsa 12 to 16:
Repeat the sequence on the other side of the body until you reach Downward Facing Dog again.
Immediately transition in the traditional count to the next posture and flow into the next movement.
Effect: If the femoral neck is pressing against the edge of the joint socket during the rotation, inflammation can occur (Impingement Syndrome). In Marīcyāsana D, the left foot is placed directly in this space on the right side. Thus, it creates a distance between the femoral neck and the edge of the socket. If you feel pressure on the socket in Marīcyāsana C, try Marīcyāsa D. However, if the Lotus position with the left foot is not possible for you, simply place a folded towel there. It has a similar effect and can relieve any pressure on the edge of the socket.