TKV Desikachar, a person whose contributions and dedication to the development of yoga in the 20th century have considerably influenced the way the discipline is practiced in modern times, died on August 8, 2016. Desikachar's life and work were impressive, especially considering the broad range and complexity of his activities. It is important to note that while we celebrate him for his knowledge and research that he was not always looked at in a positive light. His son, with whom he worked closely, was involved in a scandal which shocked the yoga world, and Desikachar himself suffered from progressive dementia towards the end of his life. In this article we take a look back at Desikachar's life and accomplishments.
A Great Legacy
As the son of T Krishnamacharya, Desikachar was born into a great legacy of yoga. Looking at his father's background can shed some light on the heritage of the yoga lineage. Krishnamacharya was born in 1888 in a remote Indian village, and grew up in a time where yoga in India had almost been completely forgotten. Krishnamacharya's father was a Sanskrit scholar and a teacher of the Vedas, and so at an early age he was exposed to the scriptures and the practice of yoga. These teachings ended abruptly at the age of 10 years with the death of his father. Shortly after that, the family moved to Mysore. This did not deter Krishnamacharya from following the path his father had paved for him. He continued resolutely, and eventually became one of the main yoga authorities of the 20th century. Today he is rightly considered one of the forefathers of modern yoga, a practice which connects tradition and innovation in order to establish a practice which is tailor-made to the individual student.
Years of Study
Krishnamacharya passed on this knowledge to numerous students over the years, including his own son TKV Desikachar, who had first started his career as an engineer, but then decided to follow in his father's footsteps instead. Desikachar studied with his father from 1960 until his death in 1989. During his own training, he devoted himself to the development of yoga trainings and yoga teachings.
Adapting Yoga to the Individual
The aspect of individuality, an element key to his father's teachings, was also central to Desikachar's approach. The main goal of this method was to make yoga accessible to anyone interested in practicing yoga, regardless of their physical condition or limitations. Another essential component within this method was the element of yoga therapy, which likewise was geared toward the needs of the patient. In Desikachar's healing approach, physical exercises were combined with breath, sound, meditation and adjusting individual habits and attitudes.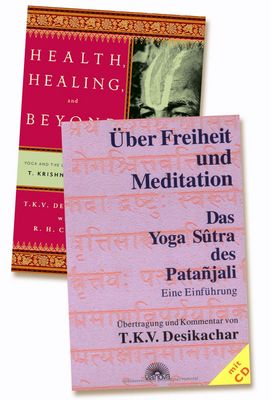 Theory, Practice and Research
Desikachar not only taught yoga according to this method, but also reflected on the theory behind it, writing a number of books which collected these reflections. Three of the most famous books he wrote were: "Health, Healing and Beyond", "The Heart of Yoga" and "The Viniyoga of Yoga". These are considered standard materials for those focused in the disciplines of yoga and yoga therapy. In 1976 he founded the Krishnamacharya Yoga Mandiram (KYM) in honor of his father: a nonprofit yoga therapy, training and research center.
Krishnamacharya Yoga Mandiram and the Krishnamacharya Healing and Yoga Foundation
The mission of the KYM is to systematically collect and compile data from the field of yoga therapy and then to make that information available to apprentices, teachers and practitioners. Additionally, the KYM Research Department specializes in literary research, explores and compares classical yoga texts and unpublished manuscripts from state archives and university libraries, making the material accessible to a wider audience.
In 2006 Desikachar, together with his son Kausthub, founded the Krishnamacharya Healing and Yoga Foundation (KHYF). The purpose of this foundation was to pass on the teachings of yoga in the tradition of Krishnamacharya in its entire range, from Yoga, to Vedic disciplines as Vedic Chanting and Sanskrit to yoga therapy.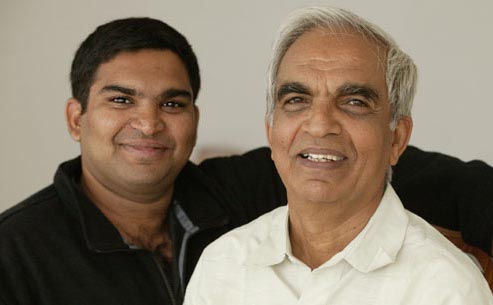 Light and Shadow
Alongside his numerous projects and achievements, there have also been some setbacks or downsides. For example, the success of the Krishnamacharya Healing and Yoga Foundation and its reputation was heavily damaged by the scandal involving his son Kausthub Desikachar, who was accused of sexual harassment among other forms of mistreatment of apprentices. At the same time Desikachar's own health began to deteriorate as he struggled with dementia, which in his last years progressed so rapidly that he was ultimately no longer able to teach - a fact that was rarely discussed and known only to family and those who worked closely with him.
A Lasting Legacy
The circumstances that challenged Desikachar have certainly not lessened the value of his contributions and development in the fields of yoga training and yoga therapy. His work and efforts make him a worthy and deserving successor to his father. As such, he will undoubtedly continue to live in our thoughts and and his approach will continue to flourish as the connection between tradition and innovation evolve through our own practice.