Anthony Grim Hall began practicing Yoga in his early 40's, unfit, overweight and with minimal flexibility. He taught himself through books from the local library ( they just happened to be Ashtanga books) and later from videos. A year later he began a blog 'Ashtanga jump back' to share his progress, "…the idea was to try to capture the moment when an asana first became possible and in this way be able to show the process, what worked, rather than just to present the finished product". Progressing relatively quickly to Ashtanga Advanced series and looking for ever more asana to practice Anthony came across Ramaswami ( a student of Krishnamacharya for over thirty years) and his Complete Book of Vinyasa Yoga, outlining the approach to Yoga taught to him by Krishnamacharya. Although the book contained a vast range of asana it also stressed the long slow breathing and a more flexible approach to practice. Anthony attended Ramaswami's teacher training and in the next few years sought to find consistency between the Ashtanga and Vinyasa Krama methodologies changing his blogs title to Krishnamacharya's Ashtanga Vinyasa yoga at Home and writing a companion book The complete Vinyasa Yoga Practice Book. This led to a much more historical focus to his blog and a close focus on the work and methodology of Krishnamacharya resulting in the first full English translation of Krishnamacharya's second book Yogasanagalu with kanada translator Satya Murthey. Yogasanagalu contained a table that outlined asana resembling closely the original Ashtanga syllabus given to Nancy Gilgoff and David Williams in 1974. "The more I explored the early writings of Krishnamacharya the more the distinctions between Krishnamacharya's early and later years seemed to drop away. the essential elements of practice are there in Ashtanga and Vinyasa krama as well as the approaches to practice that developed out of the Krishnamacharya tradition".
http://grimmly2007.blogspot.de/

Workshop curriculum
Saturday
1st session - approx. 3 hours A workshop exploring the 'original' Ashtanga of T. Krishnamacharya, Pattabhi Jois' teacher. This workshop will use the asana table of Krishnamacharya second book, Yogasanagalu (1941) to rearrange the asana outlined in his first book, Yoga Makaranda, and provide us with an 'original' Ashtanga Primary Series. Using this familiar sequence we will explore the approach to asana that Krishnamacharya outlined in Yoga Makaranda (1934), the long slow breath, 'like the pouring of oil', the appropriate kumbhaka's (breath retention's) indicated for each of the asana, the longer stays in certain postures, the employment of bandhas as well as the vinyasa method (counted movements linked to stages of the breath). The intention is to make this workshop accessible to any level or style of asana practice.
LUNCH
2nd session - 1 hour A talk on Krishnamacharya and 'original' Ashtanga vinyasa, exploring the question of consistency in his teaching from his early to later years.
3rd Session - 2 hours Pranayama workshop.
Exploring Krishnamacharya's approach to pranayama(s) Followed by Q. and A.- Krishnamacharya/developing a home practice
Sunday
1st session - 3 hours Vinyasa Krama workshop.
Exploring the approach to asana taught to Srivatsa Ramaswami by Krishnamacharya over a period of thirty years form the 1950's to 80s. Where Ashtanga tends to be (mostly) fixed sequences Vinyasa Krama has a more flexible approach to asana. However, the asana are still grouped into subroutines and sequences for learning the relationships between individual and groups of asana. This allows us to take a key asana and see postures that lead both up to that asana and might be employed as preparation, as well as postures that lead on from the chosen asana allowing as to develop it further or make it applicable to other areas of the body. It also allows us to modify our practice, giving us a 'tool chest', once the subroutines of asana are learned it is then possible to construct a practice based on any appropriate rearrangement of the subroutines. It can be seen that the Ashtanga series, for example, are just such arrangements of subroutines.Throughout the workshop we will be noting how elements from Saturday's workshop, Krishnamacharya's approach of the 1930's is consistent with his later teaching, the long slow breath, longer stay, kumbhaka's and employment of bandhas are all found in vinyasa Krama.
2nd session - 2 hours Developing a home practice. Krishnamacharya taught an integrated Yoga practice. This session will be a led class that will employ an arrangement of subroutines and certain key ('essential', 'to be practiced daily') asana followed by pranayama ( introduced in the 3rd saturday session), pratyahara ( sense withdrawal) and a short meditation. Followed by Q. and A.- Krishnamacharya/developing a home practice
Stundenplan
Samstag
09:00 - 12:00
Exploring of the 'original' Ashtanga of T. Krishnamacharya
13:00 - 14:00
talk Q&A
14:00 - 16:00
Exploring T. Krishnamacharya's approach to Pranayama
Sonntag
09:00 - 12:00
Vinyasa Krama
13:00 - 15:00
Developing a home practice followed by Q&A
early bird 120€ (paid by March 1st)
regular 140€
Teacher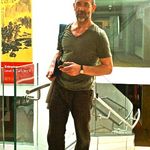 Location