learn to lead...yourself! I know that many teachers and students are intimidated by the idea of a self led practice. David will be available for guidance and help to get you started if this is new for you. If you already have a self led practice then you know how transformative it can be!
.precision
sometimes one small insight can alter your entire way of practicing. Too many instructions, on the other hand, can be confusing and distracting. Get just what you need and then proceed. .practice what you teach, what you need, what you want, or a modified version of a series you already know such as ashtanga. Enjoy a quiet space to be on your own...with others who are on their own!
.refinement
while you enjoy the silence your subtle breath awareness and skillful imagination will develop. You will also notice what everyone who meditates notices: how busy your mind is. You will then be aware of how your physical practice alters your mental state.
.reformation
work with existing injuries and learn to heal them through mindful practice. David will offer assistance and advice for injuries with regard to healing and keeping up strength during recovery.
.inspiration
you will be contributing to and benefiting from the focus of others, allowing for a less "lonely" self practice while still being centered in your self. Class begins with a led warm up and continues with a self led practice. Students are then given space to lead themselves through their own personal practice in a quiet setting. David will offer personalized adjustments and suggestions that students can integrate into their practice.
Who this is for:
.students
this a great way for dedicated students of yoga to advance their practice. Moving at your own pace, developing a rhythm, hearing your own breath, guiding yourself from one moment to the next quiets the mind allowing it to become aware of subtle aspects of practice. Receiving individualized instructions and personalized adjustments brings the benefits of a private session together with the benefits of a quiet meditative movement practice: focus, clarity, and discipline.
.teachers
this is a great way for yoga teachers to become more intimate with their own creative process and actually teach from their own experiences. You will be amazed at how clear and unique your instructions become when you learn to practice on your own. You might be surprised at how simple your asana practice becomes, or you might find that you can explore more advanced techniques that are not taught in drop in classes.
WORKSHOP: VINYASA UPAYA
(surya namaskar as a foundational skill for vinyasa practice)
.upaya
a skilful, functional, or effective means, method, or process
.vinyasa
to place in a special way. Vinyasa Yoga can be exhilarating, energizing and strengthening or agitating, exhausting and injurious depending on the skill with which it is practiced.
This workshop is designed to equip the student with all of the necessary techniques that lead towards a fluid and buoyant experience of their vinyasa practice by learning to master surya namaskar A&B The following topics will be addressed:
.range
there is a prerequisite flexibility/stability students must have in order to transition efficiently between postures and minimize or eliminate impact.
.breath and bandha
the secret to lightness lies in the subtle coordination of both. Without these two elements students tend to press and strain rather than float and breath their way through through the practice. The integration of mind and body through these subtle techniques is what differentiates surya namaskar from "burpees".
.prerequisite strength
performing surya namaskar well is primarily about mental agility and technique, however, strength and stability are also necessary. Relevant postures and movements will be included and explained.
.rhythm once you have the form and technique down, rhythm and coordination of breath and movement is when the magic happens. We will practice along with drums that coordinate all of the above.
*At first It takes a mental effort to learn the skills necessary to practice effortlessly, once the coordination of mind and body are second nature, the feeling that you are animated by a power beyond your own will and effort can be achieved. You want that..
WORKSHOP| Physical Origami- levels 1&2
This class offers both innovative and familiar sequences of postures that bring to light the various ways in which the body is designed to fit together, fold and unfold. Expect a fluid physical practice along with nuanced descriptions of form and technique, as well as demonstrations of adjustments with students that show how we can adapt our bodies to the archetypal forms of yoga postures.
Level 1 covers many of the foundational formal relationships of the body within root postures of every category that serve as blueprint for most every other posture imaginable.
Level 2 includes more advanced postures, transitions, and descriptions, including lotus postures, handstands, and bandhas.
SUPERFOOD
Nutrition is an important aspect of a sustainable yoga practice. During this unique workshop a range of raw organic superfood treats will be offered by Verena Schuder during the breaks so you can recharge strength and lightness for the next session.
Stundenplan
Samstag
09:30 - 11:30
Self Led Vinyasa/Mysore Style
11:30 - 13:00
lunch time/superfoods by Verena Schuder
13:00 - 16:00
Vinyasa Upaya
Sonntag
09:30 - 11:30
Self Led Vinyasa/Mysore Style
11:30 - 13:00
lunch time/superfoods by Verena Schuder
13:00 - 16:00
Physical Origami Level 1 & Level 2
early bird 220€ (paid by April 1st)
regular 250€
Superfood is included!
Teacher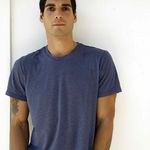 Location