The artist
Richard is a photographer, a yogi, a father, a husband, a brother and a son… He wants to use his gift of photography to make a difference in this world. With a fashion and portraiture background Richard comes with a keen eye for detail, meticulously working to create timeless striking imagery.
Richard has worked with many leading teachers in various different yoga communities with strong links to Ashtanga and Jivamukti, as well as leading teachers within the broader Yoga communities such as Mark Whitwell, Danny Paradise, Rusty Wells, Petros Haffenrichter and Dechen Thurman, to name but a few. He has also worked closely with the Yoga Journal in Germany, been exhibited in the National Portrait Gallery in London with a portrait of Jivamukti Yoga London Directors Cat & Phil Douglas, and journeyed to Mongolia to document the first ever Yoga retreat in the East Gobi Desert with Emma Henry, Lululemon & Reclaim Your Self. Moreover, he has been featured in the prestigious photographic magazine 'Black + White' alongside the great David Bailey.
Sabine: Richard, you've just launched your latest project "yoga photography". Can you briefly tell us what this is all about?
Richard: Yoga Photography is all about honouring the practice in the only way I know how, through photography… I am a fine art portrait photographer and a yoga practitioner and felt that the images we see on a daily basis that proliferate social media are so far removed from the practice, so far from the essence of what yoga really is. So I decided to make a stance, make a change and create a global resource of timeless images that honour the practice and bring integrity back to the images that are used to portray the practice. My main intention is to inspire more people to get on the mat and begin their journey of self-discovery.
Sabine:When I first heard about yoga photography, my initial thought was: "Well, there are a number of very aesthetic movements and positions, so why not take beautiful pictures of them?" However, when looking at some pieces of your work, I felt that there was way more to them than just a beautiful or stunning image. What is it that you want to express with your pictures?
Richard: I feel honoured that you see something deeper in my images than most, it means I must be doing something right :) - I suppose in essence, I'm trying to capture the true nature of the Asana practice, the movement meditation while capturing the soul of the practitioner. But it's not just me, every element needs to be 'present' to make the images work: myself, connected to my breath, which is connected to the subject. In this way, we find a synergy and at that moment, when the light inside speaks, I press the shutter.
Sabine: You've also mentioned that ultimately photography is a meditation and thus also a form of yoga. Can you tell us more about this connection and in how far the two elements are intertwined in your eyes?
Richard: After I started practicing deeper and meditating regularly, I came to the realisation that everything we do in this life is Yoga, every action a mediation - life is Yoga. I was shooting portraits in Zurich a couple of years ago with some good friends, Carolina, Roland and Karl. I was loading film into the dark slides and I suddenly realised, 'there's no thought', this action was a meditation. The repetition of loading of the dark slides was the mantra, just like the double syllable from Transcendental Meditation. This followed in every element of creating the picture, from lighting to composition, focusing right through to the moment the shutter is pressed for that one sheet of film, that single moment captured perfectly as it is intended.
Sabine: In your photographs, the yogis pictured often seem completely absorbed in their practice. How do you manage to create this kind of atmosphere?
Richard: For the synergy to really work, we, collectively, need to feel at ease with where we are and what we're doing. The 'doing' bit is easy, once you start to practice, you are internalised, so it's all about setting the scene before you get there. Thus it depends on the practitioner. For example, an Ashtangi practices to their own breath, in silence, so you wouldn't have loud music playing, whereas a Jivamukti practitioner, who practices to music, will probably prefer this. But also understanding your subject: for example, when I have private clients for portraits, we will have an hour session. Usually I won't touch the camera for at least 30 minutes but build a bond first and then when the camera is between the two of us, they feel more at ease with the situation. Lastly, the Asana: this part comes from the practitioner. There has to be some form of emotional connection with the Asana chosen, be it an aspiration from when they first started to practice, a backbend that really released an emotion, or an Asana they feel good in, it's not about what I want. If I was to ask them to put their leg behind their head, and they can't, they will feel very self-conscious questioning their abilities. If they feel good in a picture, as a viewer, the picture feels good to you, too…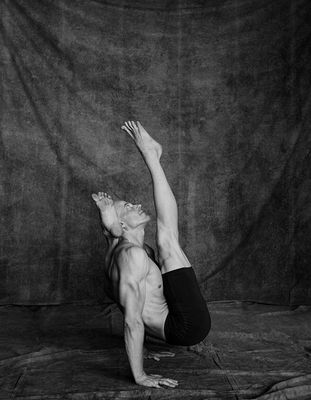 Sabine: Have you had any feedback on how the yogis in the photographs experienced practicing while being "observed"? Did it have any effects on their own practice?
Richard: I think the biggest response I get is the feeling. While shooting, I will make micro adjustments for the structure of the image. Quite often, the practitioner will see the image before, feel the adjustments and see the image afterwards - many then repeat the Asana to feel the difference. So I guess the biggest observation is the mindfulness of the Asana, the difference between being in Virabhadrasana with high hips and limp arms and being in the same Asana with deep hips and really reaching with both arms, a tucked tail bone and bhandas engaged.
Sabine: I think that by now it has become clear that you have a great passion for both photography and yoga. Which – if any – of them came first? And do you feel that linking those two aspects changed your approach in either yoga practice or photography?
Richard: Well, that depends how we look at it. If life is Yoga and every action we do is Yoga, then Yoga came first :) However, it was Yoga and meditation that made me realise this, which came after photography, so photography, in a non-philosophical way, came first. I've been a photographer for about 13 years. I'd say for the first 7 or 8 years I was me figuring out what exactly it is I take pictures of, while learning various techniques from some incredibly talented photographers in the fashion and architectural world. I started shooting Yoga before I was really practicing. In reality I think it was actually my passion for photographing yoga that brought me to practice, and through linking the two, this has not only changed my approach to photography and Yoga, but also to life in general. At the moment, I'm seeing the difference in my own practice: through seeing many practitioners and their practice, making micro adjustments and visualising the Asana, I find myself being very mindful in each Asana myself, really feeling my body and my breath in synergy.
Sabine: Are you yourself rooted in a particular yoga tradition? If yes, which one and what made you choose it?
Richard: I still remember my first Yoga session ever. I was on a rooftop in Jodhpur, the blue city - half an hour of Sun Salutations to the rising sun, followed by a ginger black tea philosophising about life and flying kites with the local kids. I was reading 'The Kite Runner' at that time, so I really felt like I was in Kabul… My first teacher was Ganesha, a Sivananda teacher in Gokarna. We'd regularly spend a few months with him practicing every day, but I never felt the same connection with the practice or teacher outside of India until I met Cat Alip-Douglas. I will always hold her in high regard as a teacher and mentor, and even if we don't spend much time, she was and still is such a guide for me. Jivamukti was the first practice I connected with outside of India, but it was also the portrait of Cat and her husband Phil that was a turning point for me, a nod from the universe I was on the right path. When I decided I was going to pursue yoga photography, Cat was the first teacher I photographed in London. This portrait in fact ended up in the National Portrait Gallery in Trafalgar Square. A few months after this, I went back to India to practice with Ganesha. Sadly he had to leave for a few months and left us with a student of his, Marco, an Ashtanga teacher - and suddenly everything made sense… I found my practice, it was my movement connected to my breath, my synergy.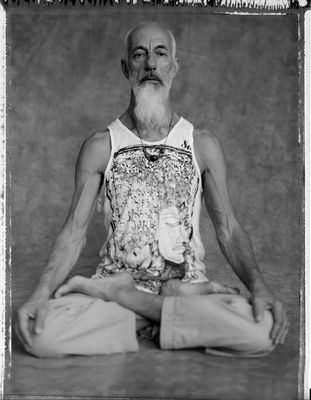 Sabine: Do you mainly work with yogis coming from a similar background or do they come from a variety of different traditions? If yes, does that have an impact on your work, i.e. do you feel that it makes a difference whether you are moored in the same tradition or not?
Richard:I work with many practitioners and I see us all as one family, inclusive, not exclusive. We are all on our journey, we just have a different name for the practice that connects us with ourselves. Having said that, there is an ease with working with Ashtangis, being able to connect myself with their breath: I can follow the 5 breaths pressing the shutter on the exhale of the 3rd, this being the optimal mindless moment, before the 4th and the mind already starts to wonder 'what's next…?'
'Sabine:Coming back to my first question: what are your plans for the future and the next steps for the "yoga photography" project?
Richard:I want to inspire, I want to take Yoga into the art world, I want to get more people on the mat. I strongly feel that Yoga has the ability to heal and bring about peace, so the more people we can get to practice, the happier and healthier this world will become… Every image online will be available as museum quality prints. Revenue from this will enable us to continue to document each and every Asana. Over time, I want to photograph every Asana out there and the influential teachers helping us on our journey. In every conversation I have with people about this project, they see the importance of it, and I'm always thinking of what's next while remaining in the present. If we can build a community of people who believe in us and are aligned with our missions, we really can make an impact for a sustainably future. I have many ideas of 'what next' and I'm very excited about all the possibilities, but right now, it's about getting funding for stage one…
Sabine: We definitely wish you all the best for that and are excited to hear about the next steps! Thank you so much for sharing your thoughts with us!

Mach mit beim Yoga-Photography Projekt
Du kannst das Yoga-Photography Projekt auf zahlreiche Weisen unterstützen, inkl. der Option eines Pakets für Übende und Lehrer:
- £1.597 - 1 Tag - Friends/studio digital package, max. 5 Personen
- £2.584 - 2 Tage - Friends/studio digital package, max. 10 Personen
1 oder 2 Tage mit Richard für bis zu 5 bzw. 10 Lehrer zur Erstellung einer persönlichen Serie von Asana-Bildern. Jeder Praktizierende bekommt ein 1,5-stündiges Shooting und erhält anschließend 7 bearbeitete S-W-Bilder.
Preise: £319.4 (5 Teilnehmer) bzw. £258.4 (10 Teilnehmer) pro Person – rekrutiere Deine Freunde und Mit-Yogis und profitiere vom Vorzugspreis!
Mit £55 kannst Du das Projekt einer umfassenden und weltweit zugänglichen Sammlung von Bildern ebenfalls unterstützen. Du erhältst dafür ein hochwertiges Bild Deiner Lieblings-Asana oder eines Lehrers Deiner Wahl. Die Website wird im Dezember 2016 mit 250+ Bildern online gehen. Jedes dieser Bilder wird dabei auch als Kunstdruck in Museumsqualität erhältlich sein.
Mehr Informationen zum Projekt unter
www.kickstarter.com/projects/248502715/yoga-photography

Support the Yoga Photography Project
If you want to support the project, there are many ways to help including two packages for students and teachers:
- £1,597 - 1 day - Friends/studio digital package 5 Pax
- £2,584 - 2 days - Friends/studio digital package 10 Pax.
1 or 2 days with Richard for up to 5 or 10 teachers to create a series of their very own Asana pictures. Each student will have 1 ½ hours shooting time and receive 7 final retouched B&W images.
This works out to be £319.4 (for 5) £258.4 (for 10) per person, so rally your friends to get a great deal on new asana pictures!
For £55 you can help fund this global resource and receive a beautiful picture of your favourite teacher or Asana. The website will be launched in December 2016 with 250+ pictures. Every picture will also be available as a museum quality print.
For more information and to support the campaign, visit:
www.kickstarter.com/projects/248502715/yoga-photography