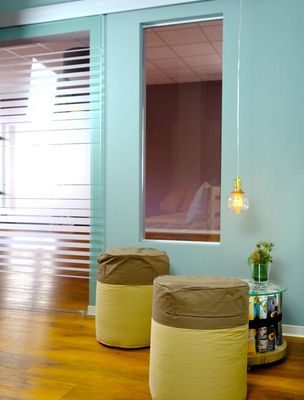 Sabine: Svenja, you've recently opened your own studio together with your husband. When and how did you yourself come to start practicing yoga?
Svenja: I owe the first steps on my yoga path to my mother, who has been practicing and teaching yoga for many years. However, my first contact with Ashtanga Yoga came much later. At that time, my husband and I were living in Sydney. Some colleagues from work convinced me to come to a led class with them one evening. It was love at first breath: the dynamics, the bridge between breath and movement as well as the athletic and at the same time elegant way of expression have fascinated me right from the start. From that point on, Ashtanga Yoga has been my constant companion. Back at home, I searched for a way to get deeper into the world of Ashtanga Yoga. And thus soon became a student with Anna Trökes and Ronald Steiner, who offered their first BDY Yoga Teacher Training together in 2010. It was one of the best decisions of my life. During the 4 years of training to become an Ashtanga Yoga Teacher BDY/AYI® , I learned how to effectively combine ancient knowledge with modern methods.
During those four years of teacher training, I also gave birth to my daughters Frida and Hanna. Thanks to the AYI® concept, which allows for individual modifications of the traditional Ashtanga practice series, I was able to get onto the mat and join the practice despite my growing belly. Inspired by this "wow experience" it has since then been my goal to offer modifications to my students so that they can practice in a way that is tailored exactly to their own needs and abilities.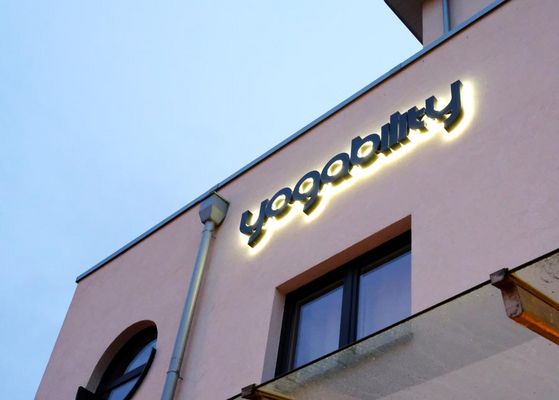 The legendary book by Dr. Ronald Steiner and Anna Trökes - Svenja Wilke is model!
Sabine: What were the next steps and since when have you been teaching yoga?
Svenja: My journey as an Asthtanga yoga teacher started slightly over 3 years ago in Koblenz, where I taught an Ashtanga yoga class as part of the university sports program. This first class initially was everything but individualized and modified since I usually had around 50 motion hungry students in front of me.
A little later, we moved back to Herdecke into my parents' former home. There, me and my husband turned the ground floor into a small yoga studio where I offered four evening classes per week with a maximum number of 10 participants.
It was also during that time that the name "yogability" developed. It's a compound of "yoga" and "ability". With this name we want to express that Yogability invites everybody to enter the world of yoga, irrespective of their age, gender, nationality, physical constitution or limitations. Anybody who is interested should have the opportunity to practice yoga with us and develop their abilities.
We want to offer an intelligent type of yoga which is tailored to the needs of the individual participant. During my teacher training, Anna Trökes once said that yoga could be compared to a colorful bunch of flowers with everybody invited to pick their favorite one. There is not just THE one yoga - just as there isn't THE yogi or THE yogini. This means that at Yogability we try to find the right flower for everyone to enable them to experience the wonderful effects of Ashtanga Yoga.
Right from the start, this approach was welcomed by so many of my participants that a couple of months ago my husband and I decided to open a larger studio. Since May, Yogability can now be found at the city center of Herdecke with a space of 130sqm. For all those unfamiliar with the Ruhr area: Herdecke is right next to Dortmund in North Rhine-Westphalia ;) Apart from me, the Yogabilty team consists of four other yoga teachers including my mother.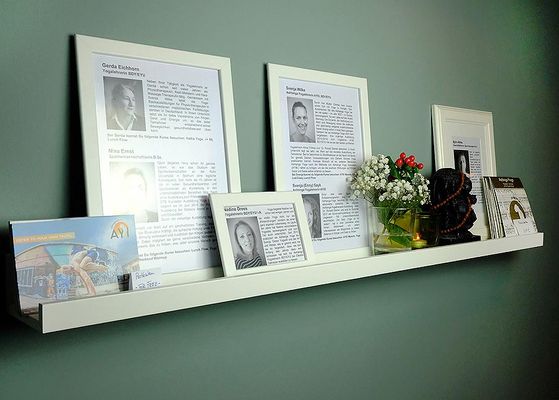 Sabine:'' You have chosen the AYI® Method for many of your classes. Why did you do that and what are in your eyes the specific benefits of this method?
Svenja: Rumour has it that Sri K. Pattabhi Jois once said: "Everyone can do Ashtanga. Except lazy people." The AYI® method finally managed to bring this dictum onto the mat in a sensible way. We are thus also slowly overcoming the former image that Ashtanga Yoga was only for gymnasts, dancers or athletes. At Yogability, we have participants with a great variety of preconditions, abilities and aspirations. And nobody is sent home because they can't do certain things or has to fear that they will overexert themselves. Our aim is it to develop a personal practice within the framework of the traditional Ashtanga Yoga practice series. On the outside, these individual series may look highly different, but they all share one feature: the meditation in motion.
Sabine: Can you give a concrete example how that works? Which course formats do you offer to achieve this kind of individual support?
Svenja: To get a first access to Ashtanga Yoga we offer the Basic Class once a week in which participants are familiarized with the Ashtanga Yoga system. There we offer the classic basic variations of the individual asanas within the framework of a led class. The second step are Mysore classes which we offer three times a week. There, me and my colleague Svenja Sayk, who is also an AYI® teacher, work on developing an individual practice together with the student. In addition, we offer led classes with changing foci twice a week. Topics here range from the correct alignment of individual body parts to breath, bandha, etc.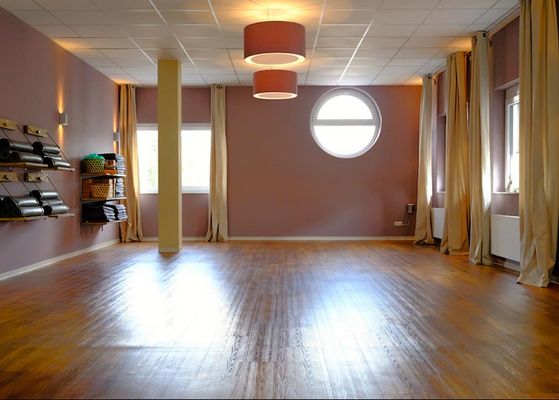 Sabine: In the new studio, you apparently have the perfect setting for practicing and experiencing yoga. What is it that makes Yogability so special in your eyes?
Svenja: Next to the central location and the great atmosphere of the new rooms, we offer flexible rates and a diverse course program. Next to Ashtanga Yoga, there is, for isntance also, Yoga Therapy, Hatha Yoga, Yoga for your Back and Yin Yoga.
Our Yogashala studio – shala basically meaning "living room" – is to become a place for many people where they feel at ease and have the cance to get closer to themselves. So to speak a yoga living room to arrive, slow down and recharge.
Sabine: You have apparently achieved a lot over the last few years. What are the next steps?
Svenja: After finishing my teacher training, I have stayed in touch with Ronald and come to his weekend workshops and/or MTCs on a regular basis. In doing so, I can deepen my knowledge and get new inspiration both for my own practice and my classes.
As an AYI® Expert Teacher I'm already looking forward to giving my students an even deeper insight into traditional-innovative Ashtanga Yoga. From mid-2107 on, we will offer the one-year AYI® Inspired Teacher Training at Yogability. At the same time, there will be a one-week lateral entry Inspired Training for yoga teachers seeking new inspiration.
Sabine: That sounds like great plans! Thank you so much for the interview and good luck with the next steps!
Publication location