Sabine: AYI® Instructor, Teacher for Thai Yoga Massage, and member of various international yoga associations - you have an really impressive résumé. Can you tell us something about your career? Were there certain points along the way which have particularly influenced you?
Marcell: I came into contact with yoga in the late nineties when I was in New Zealand. I was immediately fascinated by it. New Zealand is a very powerful place and my experience there combined with Yoga was very formative. Shortly thereafter, I went to India, where I studied for several years with Swami Rudra Dev in Rishikesh. He is warm-hearted, but a strict old-school Iyengar teacher. I liked his severity combined with heart and I learned a lot about alignment. Therefore, the Iyengar method became a solid basis for my practice. However, it seemed too static and way too many props were involved.
Then I came to find my "yoga father" Lance Schuler in Australia. He impressed me with his light yet intense method of practice. After the first lesson, I decided to stay, living and working for several months. We established a close friendship which still exists today. I came back many times over the years and completed my first teacher training there. Lance's INSPA style seemed to be the next logical step on my path. Even though Lance comes from an Iyengar background, he relies less on the use of props and incorporates more dynamism.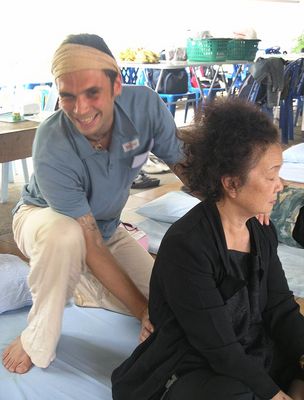 During a following training in Thai Yoga massage and the extended stay in Chiang Mai, Thailand, associated with it, I came into contact with Ashtanga Vinyasa. There was an Ashtanga school next door to where I was living, with William Holtby as the teacher. Up until them I had only sporadically practiced the First Series. It had always seemed too boring, rigid and monotonous. I also didn't really understand the meaning behind it. William brought me closer to the deeper meaning of Ashtanga Vinyasa. The synchronization of breath, bandha and movement fascinated me and it awoke something new in my practice. It was then that I realized I had found my yoga home.
Sabine: After such a long time in Asia, what brought you back to Germany and how did you find AYI®?
Marcell: Love. I didn't plan to come back but rather to stay in Australia. I met my wife in Bremen and when our daughter was born, it was clear to me that I could not continue traveling like that. The time had come to give up my old profession in the event industry and establish YOMA. At the same time I wanted to continue studying without having to travel so far. Thus, I went in search of a long-term, in-depth training in Germany. I wound up meeting Anna and Ronald, and I chose to participate in their first joint teacher training.
Sabine: You've studied and taught in Asia. Can you share your opinion regarding differences in approach, particularly those regarding teacher trainings?
Marcell: Yes. In Asia the training is much more time consuming. The classic teacher-student relationship is built over several years and is held in single or small groups. At first glance the teaching seems very unstructured and arbitrary. But the content, particularly the philosophy, is delivered to the student in small "bites" in a way that there can be a direct connection. In the West, a structured teaching system seems effective in mediating cognitive knowledge, but it falls short when making the information stick. In my experience, we westerners tend to give up and move on to the next thing as soon as it becomes uncomfortable or boring. In Asia you choose your path, you have your teacher and he guides you.
Sabine: What does your personal practice look like? Do you practice different styles or have you chosen one specific direction to follow?
Marcell: At this time I'm exclusively practicing the AYInnovation® method. At some point, at least for me it's been this way, you need to find structure in your practice, where you are not distracted and can really delve deeper. The structure of the AYInnovation® method makes it easier to focus on breath and what you are doing in the moment. For me this is one of the most effective methods, to come closer to your true Self.
Sabine: You've recently moved your YOMA studio to Bremen. What does YOMA stand for and what distinguishes your studio from others?
Marcell: YOMA stands for yoga and massage. I said from the very start that I needed to create a space where I could offer the highest level of yoga. Through Thai Massage I am able to provide my clients with more balance in their daily lives in a more passive way. My goal is to offer a space that is open to exchange, where people can come and do something for themselves and feel that they have a home away from home. By moving into this new space we have a better chance at achieving this. I'd also like to mention the YOMA team, which has been steadily growing over the years and is just great. Everyone brings his or her unique and individual experience. I think that as soon as you walk in the door it is clear that you are accepted as you are.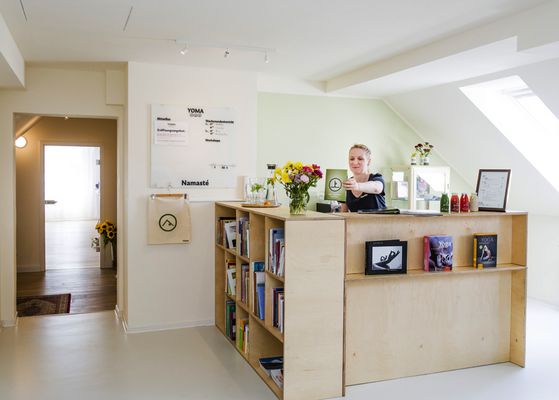 Sabine: Which course formats do you teach and why have you chosen them?
Marcell: As a main focus we offer Ashtanga Yoga Innovation®. With AYInnovation® you can teach the beginner next to the advanced student, which is usually in a Mysore format. Then we offer INSPYA classes which are basically Vinyasa classes with a peak pose or theme. YOMA Groove is a more playful class where we celebrate the end of the workweek. It is an intense Vinyasa class with music. As fall approaches we will be offering additional classes to our program with specialized focuses such as pre-natal yoga, classes offered through health insurance providers and more. We are still in the planning phase at the moment.
Sabine: You also offer diverse workshops on topics such as non-violent communication. Do you see this as something separate or somehow connected with Ashtanga Yoga?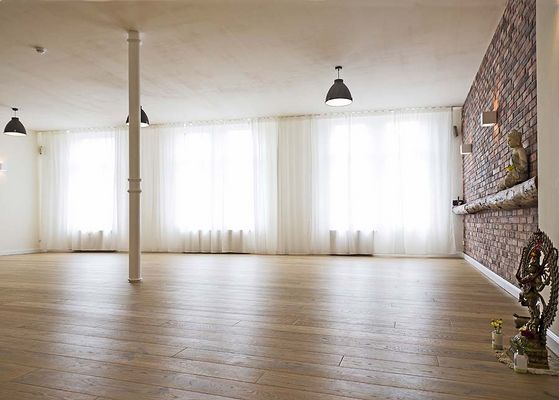 Marcell: Everything is interconnected somehow. Nonviolent Communication (NVC) is consciously practicing Ahimsa. It makes the topic, part of Patañjali's Eight Fold Path, or Ashtanga Yoga, practical and a good starting point for understanding this. I feel that I am creating a more well-rounded offering with these trainings, where people can learn to live yoga on and off the mat. David Ginati is an excellent teacher who learned from Marshall Rosenberg, founder of GRP.
Sabine: Could you give a couple examples of how you integrate these approaches and how they work together meaningfully?
Marcell: Everything offered at YOMA should have a reference to yoga. While this may not seem at first glance, for example, the GRP offers a very practical introduction to yoga philosophy. Yoga is often reduced to the asana practice and once you get off the mat, daily life goes on. We consume, we follow the latest trends, find it hard to avoid animal products, we argue with one another, take advantage and so on. The list is endless.
Ahimsa (non-violence) is the first of the yamas and niyamas (guidelines of how to behave in the world). It is for this reason that these are listed at the very beginning of the Ashtanga path of Patañjali. I often see people who are not particularly non-violent in the way they work with themselves on the mat, or even in daily life. Looking at yamas such as as asteya (not stealing) or satya (telling the truth) it is clear that they too can be considered a form of non-violence. Stealing and lying are aggressive, or violent actions to my mind. So by developing a profound sense of Ahimsa and acting accordingly, you create optimal conditions for dealing with him or herself and his or her environment. The following steps of the Ashtanga path can be built on this solid basis and can develop optimally.
Sabine: YOMA is one of the first training studios for AYI® Inspired training that you teach in Bremen together with Ronald Steiner and Eberhard Bärr. What is for you particularly important or what do you want to convey your students through this training?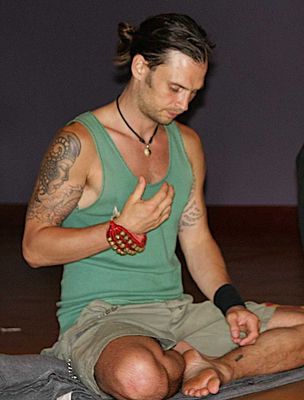 Marcell: I have a responsibility to develop professional yoga teachers in YOMA. We are pleased to be part of the AYInnovation® education system. Ronald Steiner teaches focus on alignment, anatomy and yoga therapy. With Eberhard Bärr we have a winning combination, a man who lives philosophy and has a special ability to convey this to people in an undogmatic fashion.
Participants need to be given a strong foundation. This means both to obtain an insight into the physical practice and the philosophy, with the goal of eventually learning how to modify things accordingly for him or herself and others. This is going to be useful regardless of whether the participant wishes to develop in the path of teaching AYInnovation® tradition or another system. The foundation is solid, like a well-built house: it is stable and the individual can always add floors, windows or extra rooms. Ronald, Eberhard and the entire team of instructors' depth of knowledge and ability to convey this highly complex content in such a clear way is impressive. Through this combination of knowledge and approach, the student creates a strong foundation to build on.
Another important module in our training is intensive week with Thai Yoga Massage (TYM). In using TYM it is possible to learn how to touch another person respectfully and safely, which can be applied during class through adjustments. Especially in Ashtanga Vinyasa, where you only have five breaths to work with a student, there is little time for explaining and so adjustments can do that with fewer or no words. In TYM you can learn to appreciate and enjoy giving adjustments and eliminate possible fears associated with hands-on assisting.
We then provide a practical introduction to the philosophy, we have the module on Non-Violent Communication, which I have already briefly described above, which we began integrating into the teacher training a year ago.
Sabine: What are your plans for the future? Do you have any projects in the works?
Marcell: First, I would like to help YOMA settle into its new location. Thankfully I have a great team who I really enjoy working with. There are so many ideas and we do our best to have regular meetings where we can share those and then see if, how and when we can put some of those ideas into practice. For that I often rely on the diverse skills of the team members. I'm curious and excited about what the future holds.
Sabine:Thank you for taking the time to talk with us. We are excited to hear about the new ideas and look forward to seeing how they develop!
Publication location